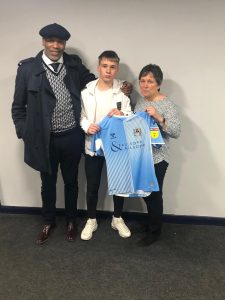 Aaron Evans-Harriott, 17 year old winger from Cheltenham Town FC, has signed his first pro contract with Coventry City FC. He has agreed a 2 1/2 year contract and will start training with the development team looking to break into the U23 side.
Aaron spoke very fondly of his time and the opportunities given to him at Cheltenham and said this regarding his move to Coventry:
"Cheltenham were really good with me and they're a massive reason as to why I'm here now because they've given me the opportunity and they were probably the best club for me at that time.
It's definitely a relief that it's all done and I'm really happy to have joined such a great club and I can't wait to get started now I'm here and I'm looking forward to what's ahead. The position the club is currently in and the style of football they play were key reasons as to why I wanted to come here. I think it's a club moving forward, and it is a great opportunity for me.".