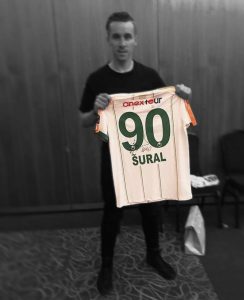 On Sunday 28 April a VIP mini bus carrying seven Alanyaspor players was involved in a fatal accident resulting in the death of international Czech Republic striker Josef Sural aged 28. The other six players, including Isaac Sackey who is represented by PSM, were taken to hospital with minor injuries but were all extremely emotionally distressed following the tragic incident.
The players were returning from having played away at Kayserispor, which resulted in a 1-1 draw. The journey from Kayseri back to Alanya would have taken approximately 8 hours. The players had arranged the VIP transport with the clubs permission.
The Club Chairman has released a statement stating that the driver had fallen asleep whilst driving. The crash was approximately 3 miles outside of Alanya.
Isaac also played alongside Josef during their time together in the Czech Republic and will deeply miss his team mate and friend.
Paramount Sports Management send their deepest condolences to all involved and also to their families and friends during this sad time.