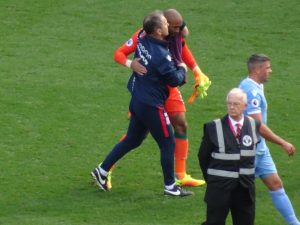 Keeper Lee Grant currently on loan from Derby County to Stoke City made his Premiership debut only last week. Having made a superb save he kept Stoke in the game and earned them a point from a 1-1 draw against West Brom.
Pleased with Lee's performance, Mark Hughes kept Grant in the starting XI for the game at Old Trafford.
He produced a string of superb saves, denying Ibrahimovic by an outstanding double save in the opening minutes in a one-on-one. Man United despite dominating the game and having 24 shots at goal were held to a 1-1 draw with goals from Anthony Martial and Joe Allen.
Mourinho described it as United's best performance so far this season, and said that Lee Grants first save was 'unbelievable' and that he kept doing that until the end of the game.
With 8 saves from Lee Grant during the game it is no surprise he received man of the match and the joint most number of premiership saves in one game so far in the 16/17 season.
Mark Hughes stated "He's a good keeper, a good character, and we're pleased he's with us".