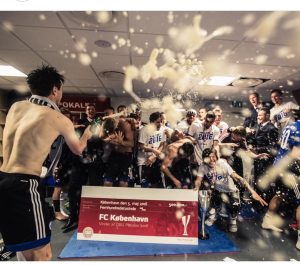 The Danish Cup final took place tonight at the Parken Stadium in Copenhagen.
The fans were strong in numbers and the Cup Final had the highest attendance in over ten years.
FC Copenhagen who are in top spot in the Danish Superliga played AGF Aarhus who sit near the bottom of the table in 11th having not won a league game since December.
Mathias Zanka who was in the starting XI for FCK had an extremely solid performance and FCK started the game very comfortably and dominated the ball possession.
Both teams had chances within the first 30 minutes, but it was top scorer Nicolai Jørgensen who scored the opening goal for FC Copenhagen after 29 minutes.
Due to an injury after 32 minutes Kasper Kusk was replaced by Youssef Toutouh who played a good game for FCK and was a constant threat on the pitch.
Morten Duncan Rasmussen equalised for AGF shortly before the half time making it an interesting second half to come.
However, it was just a matter time before FCK would take the lead again. The Copenhagen Giants controlled the whole second half. Former skipper William Kvist hammered the ball into the back of the net to secure FC Copenhagen their first trophy of the year winning 2-1.
The winning goal was excellent play between Yousef Toutouh and Nicolai Jørgensen that lead to the ball landing within William Kvists range for him to make the winning strike.
FC Copenhagen were winners of the trophy last year and deservedly so again this year, they have now won the Danish Cup 7 times.