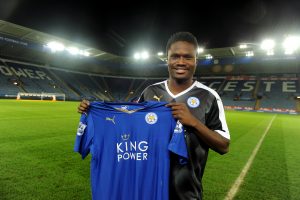 Leicester City FC have been crowned champions of the Premier League with two games left to play, after Chelsea came back fighting to seal a 2-2 draw with Spurs last night, not only stopping Spurs from winning the game but also the league.
The midlands team were 5000-1 to win the title this year and against all the odds they have made fantastic footballing history and some remarkable achievements; First league title in the club's 132 year history, first new champions in 38 years, 13 places higher than last season, 100 successive nights at the top of the table, manager Claudio Ranieri's first top league title & Robert Huth the only squad player to have previously won the PL title.
The media and pundits everywhere have expected Leicester to fall since Christmas but they have remarkably only lost one Premiership game in 2016.
Ranieri spent most of his playing career at Italian club Catanzaro and he played in total for 13 years. He has been coaching since 1986 and held positions at some of the most successful European football clubs including Fiorentina, Athletico Madrid, Chelsea, Juventus and Monaco. His best success previously as a manager was whilst at Monaco from 2012-2014 when the club promoted one season and finished second to PSG the following season. His greatest achievement now though, is undoubtedly the success he has helped to achieve at Leicester City FC and both his and the Foxes' first top league title.
It is anticipated that the title will increase Leicester's revenue by over £150million, the bookmakers however have not done so well financially!
The team have been notably a close knit group of players who have shown each other support both on and off the pitch and shown other clubs the true power behind a united team and manager.
The Leicester squad are a good balance of players – British players Vardy, Drinkwater, Dyer to name a few, combined with some good European and international players have created a successful recipe this season.
Players who have joined Leicester from European teams include; PFA Players' Player of the year winner Riyad Mahrez from french team Le Havre, Leonardo Ulloa is an Argentinian who played for Spanish clubs before his 12 month stint at Brighton and recent signings Austrian international Christian Fuchs from German side Schalke 04 and the 21 year old Ghanian international Daniel Amartey from FC Copenhagen.
Other international players that can not go unmentioned include N'Golo Kante the French international, jeffrey Schlupp who is also a Ghanian international and the Danish star Kasper Schmeicel.
The man who has to be the 'Cinderella' of this football fairytale has to be the one and only Jamie Vardy, who was voted FWA Footballer of the Year. The 29 year old was released by Sheffield Wednesday at the age of 16 and he later went on to play for conference teams Halifax and Fleetwood after becoming their Player of the Year he made a huge jump to the Championship when he signed in 2012 to Leicester City FC for £1million!
Jamie Vardy since 2012 has made 131 appearances for Leicester, scored 47 goals (including 22 this season so far), in May 2015 at the age of 28 he was called up to play for England and he has achieved 6 caps and 2 goals in 12 months.
Vardy has had a lot of media attention, not all of it good, despite this he has shown both mental and physical strength and professionalism on the pitch throughout the season. The hashtag the Foxes proudly tweeted last night showed their commitment and support to their team and especially to Vardy – #havingaparty – Football fans, pundits and professionals are joining in too with this celebration of footballing history.
Well done Leicester City FC, Premiership Champions 2016!